We're really looking forward to our next concert! It's a characteristically wide-ranging concert of a cappella choral music in St Peter & St Paul Church, Great Missenden on the 8th October 2022 at 2.30pm.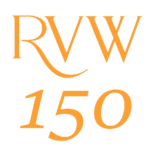 The concert will celebrate the 150th anniversary of Ralph Vaughan Williams with several of his works and arrangements along with pieces by other British composers including Finzi, Elgar, Ireland, Paul Mealor and Simon Beattie. In a lighter vein the choir will samba with a glass of Tequila and then plumb the depths of the ocean with a mermaid…
The concert should last about 80 minutes and will be followed by afternoon tea which is included in the very modest ticket price of £10 available at the Door or from Samways in Station Approach. More information from St Peter & St Paul Church here.
Programme Notes (also available at the concert)
Programme includes:
* Ralph Vaughan Williams: The Dark Eyed Sailor; The Lover's Ghost; Three Elizabethan Partsongs
* Antoine Brumel: Sicut Lilium
* Tomas Luis de Victoria: Ecce Sacerdos
* Ernst Toch: Geographical Fugue
* Paul Mealor: O Sanctissima Maria; Ae Fond Kiss
* Stephen Paulus: The Road Home
* Simon Beattie: A Remembrance
* Philip Wilby: Marianne
* Edward Elgar: As Torrents in Summer
* John Whitworth: The Mermaid
* Guy Turner: Tequila Samba 
* Gerald Finzi: My Spirit sang all day; I praise the tender flower
* John Ireland: The Hills
* Robert Lucas Pearsall: Adieu! my native shore 
* Heinrich Isaac Insbruch ich muss dich lassen
Watch out for further updates on our Facebook page. We very much hope to see you there.
FUTURE DATES FOR YOUR DIARIES:
Sunday 11 December 2022 – Christmas Concert
Saturday 25 March 2023 – Spring Concert