During the early 1950s, the Cheslyn Youth Choir, which consisted mainly of singers aged 14–18, built a fine reputation under its founder–conductor R. Glyn Davies, a teacher at the Germains S. M.Boys School. These young singers, many of whom were still at school, were supplemented by a small number of teachers, largely to strengthen the tenor and bass lines. When Glyn left the district in 1956 on promotion to a headship in Ilford, David Carr, who had been singing with the group for just over a year, was invited to take over. Unfortunately, numbers initially dwindled, but a nucleus, keen to continue, decided in 1957 to re-form.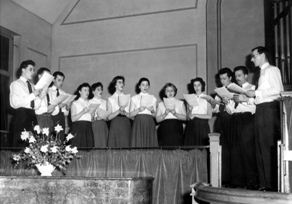 This new group, of about 15 voices, rehearsed in members' homes, with a largely a capella repertoire. A new name was needed, initially to complete the entry form for the Chiltern Music Festival in February 1958. We are often asked about the name, and a certain mythology has arisen surrounding it.  Is it after the little-known sixteenth-century composer, William Damon?  Or perhaps the Damon of Greek legend—an occasional figure in madrigal texts—whose trust in Pythias symbolizes absolute loyalty in true friendship?  In fact, we can now publicly confirm that the name is indeed an acronym derived from the choir's founder and the day they rehearsed: Da(vid)–Mon(day). Early on it was also pointed out that the reverse of damon was not inappropriate for a group with no fixed abode.
Success in the Chiltern Festival resulted in numerous invitations to sing in the locality; no fewer than eight events in 1958, plus singing at the wedding of two of the group's members.  Changes in membership occurred fairly regularly, some leaving the area through marriage or working away, some to university or college. However, gaps were readily filled and the size of the choir remained fairly constant at around 15–18, with standards of performance consistently high.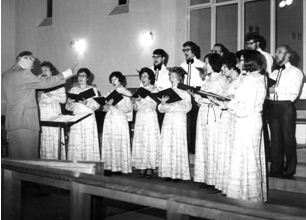 David stayed with the choir until the turn of 1964/1965, and was succeeded by Peter Watts, who led the choir for almost twelve years. The tradition of singing locally—in music festivals and concerts in churches—continued, sometimes in conjunction with other performers, but always "to sing for pleasure, for ourselves, and others", which remains the choir's motto to this day.
When Peter left for Wales, the choir was leaderless for a short while until the discovery of Peter Tinlin.  Damons was Peter's first ever choir, but his ebullient style readily attracted new members, an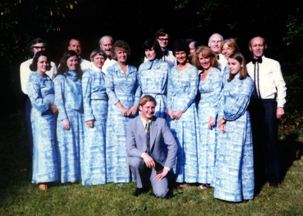 d social activities became a regular feature.  Barbecues, themed parties, canal trips, punting atOxford, and numerous get-togethers in members' homes made the choir a well-knit and friendly group. As choir—and hairstyles—increased in size, so did the repertoire. Many new pieces were performed, including a number specially written for the choir. Concerts featured the infamous "frilly fronts", and other forms of fancy dress. It was also under Peter that the Damons made their first international appearance, in Germany, as well as entertaining local groups as diverse as the Amersham Spiritualists and the Hard of Hearing Club.
When the time came for Peter to move to the South coast in 1987, Richard Grylls, a highly-accomplished local music teacher and one-time singer with the Damons, took over.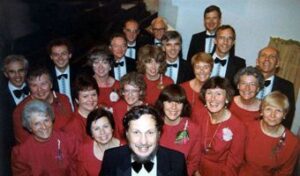 His musical talents were unquestionable and his style of direction, at once subtle and dynamic, inspired the choir to even greater heights.  Richard's enthusiasm for music is infectious, and many members recall  performances under him with great affection.  That, and the strong social aspects of the group which Richard was keen to maintain, is what has kept many of us singing with the Damons, week after week, year after year.  Many of Richard's arrangements written for the choir have become standard Damons repertory.  Just before he left, Richard led the choir on a memorable trip to Normandy, where a set of truly wonderful concerts were thoroughly enjoyed by singers and audiences alike.
After a most successful fourteen years in post, Richard felt it time to leave.  Thus, in 2001, the choir found a new leader in the shape of Alex Flood.  Alex, organ scholar at St Alban's Abbey, was a skilled performer who had accompanied the choir on occasion in the past.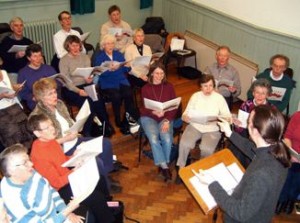 Like Richard, he was also a composer, arranging a number of pieces for the choir during his time with us, and growing a beard to look  the part.  After three years, the pressures of completing a PhD forced Alex to leave, but he maintains links with the singers and appears with us from time to time.  You can read more about Alex and his compositions on his web site.
Alex's successor, Matthew Watts (no relation to Peter the First), was with us, sadly, for only a year, after which followed an interregnum as other possible candidates were sought.  We were overwhelmed with the number of applicants, and each was rigorously auditioned and interviewed (a bit like Pop Idol).
The successful candidate was Will Dawes, an experienced young choral conductor and fine baritone who was with us for two years.  Although he was only with us a short time, Will certainly made his mark on the choir.  Many new pieces were introduced, and we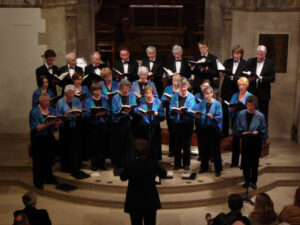 tackled a wide range of music including some scored for larger forces such as the Bernstein 'Chichester Psalms'.  Will's great expertise in conducting and vocal training helped us to perform to a high standard and his great sense of humour enabled him to push us beyond what we thought were our limits without frightening us too much!  Will has now moved on to great things as a regular member of professional choirs such as Stile Antico and Polyphony and you can read more about him on his web site.
Which brings us to our present conductor, David Cooke.  You can read more about him on our Musical Director page.  David is perhaps the perfect conductor for the Damons today.  His technical and musical understanding combined with his great humour and patience have enabled him to take the choir to new musical heights.  New singers are joining the choir, we are exploring a great repertoire of pieces old and new, light and serious, and rehearsals and concerts alike are thoroughly enjoyable experiences.